Did you know, with the right strategies in place,
YOU CAN...
DO YOU WANT TO...
Stop perpetually growing your following and instead focus on turning your existing followers into customers?
Create a beautiful, consistent, and cohesive feed that makes people envious and think #feedgoals?
Grow a wildly engaged and excited audience that trusts and promotes your brand for you?
WHAT WOULD HAPPEN IF YOU COULD...
Easily start attracting the right audience who will be instantly engaged with your brand?
Start growing your brand through partnerships on Instagram...and get paid for it?
Get invited on trips, be given free products, and get hooked up with your business all because of Instagram?
An E-course for Bloggers, Brands, & Creatives Who Want to Grow Their Biz on Instagram and Get Paid for Their Passion
This Course Will Help You...
Did You Know That GREAT Engagement Can Get You...
How Master Instagram Engagement Works
The entire training program, which includes lifetime access, is available the moment you complete your registration.
Take a Look Inside Master Instagram Engagement
Get a firsthand look at the course, the topics it will cover, and see what others are saying about it right now.
Browse the Course Curriculum
Browse the Course Display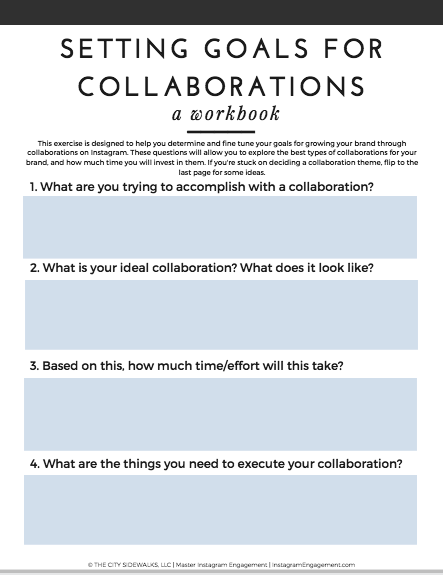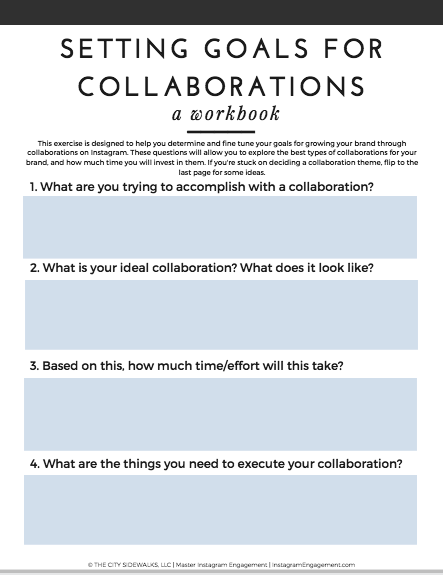 See what Others Are Saying
Are There Any Bonuses?
Absolutely! Browse the List of Bonuses You Get When You Enroll!
Instant Membership to the Course Affiliate Program to Earn Back Your Investment + Make More $$
Ability to Schedule 1-on-1 Mentoring Sessions with Me
A Workbook for Building Your E-mail List on Instagram
First notice of FREE Webinars and Workshops
Email and Outreach Templates to Send to Potential Partners or Brands You Want to Work With
How to Know What You Can Charge for Sponsored IG Posts
Step-by-Step Guide on How to Prepare for the New Instagram Algorithm + Video Access to the Webinar
Live Video Tutorials of Instagram Editing Tools
Frequently Updated Resource Library + Course Content
Free Access to The City Sidewalks Resource Library
Customized Exercise to Determine Your Own Posting Schedule
Cheat Sheet for Better Videos and Photos on Instagram
A Guidebook for Driving Engagement Right Now with Add-Ons
Checklist with Daily Habits for Increased Engagement
A Detailed Guidebook to Popular Photo Styles
And Much More in the Library!
Join Our Affiliate Program Now! *Even as a non-student
EXCLUSIVE INSTANT BONUS: Watch the 1st Module and my 1-Hour Webinar Training for FREE!
Or if You've Ever Thought...
"MY PROFILE NEEDS A SERIOUS MAKEOVER."

"I'M SO WORRIED ABOUT THE NEW ALGORITHM."

"I WISH I COULD BE MAKING MONEY OFF OF THESE POSTS!"

"I FEEL LIKE MY AUDIENCE ISN'T INTO WHAT I'M POSTING."

"I WISH INSTAGRAM WOULD GIVE ME MORE [SUBSCRIBERS, CLIENTS,OR TRAFFIC]."

"I DON'T GET INSTAGRAM."

"I WONDER WHAT THE BEST TIME TO POST IS?"
Who's Behind Master Instagram Engagement?
Hey There! I'm Ana!
I help bloggers, entrepreneurs, and creatives achieve their wildest business dreams through social media and content marketing.
And now, I'm giving YOU my secret sauce.
I've done all the hard work for you and finally figured out a successful roadmap to social engagement, which you can easily use for your business too.

Because of my Instagram strategies:
I've

worked with popular brands like Four Seasons Resorts, HuffPost, & Lonely Planet
I've gotten paid campaigns with brands
I've brought in additional revenue from consulting other creatives who want to see similar results in their business
I've developed a clear, visual story for my brand that lands me jobs over and over again
You CAN start to see more sales, more signups, and more overall interactions with your brand because of these steps I'm giving you!
Are You Ready to Get Paid for Your Passion?! LET'S DO THIS ALREADY!
An E-course for Bloggers, Brands, & Creatives Who Want to Grow Their Biz on Instagram and Get Paid for Their Passion
Q: When does the course start?
A: The course starts right when you enroll! You'll be prompted to set up a login with the course, and then you will have immediate access to all the lessons, modules, and bonus materials. If you purchased the Mentor Package, we will be in contact to schedule your 1-on-1s within 3 business days of your enrollment.

Q: How long will it take to complete the course?
A: You can complete the course at your own pace! You can binge and watch it in a day, or you can take your time over a few weeks and come back when you feel like it.
Q: How is this different from other Instagram Courses?
A: Master Instagram Engagement is designed specifically for students to discover how to increase and manage their engagement on Instagram so that they can grow their business. It doesn't matter if you have tons of followers on social media if none of them are taking action or engaging with you. What is truly important is who your followers are and how they are interacting with your brand. With MIE, you won't be sitting through another course all about how to grow your following because that's not as important as the interactions you receive.
Q: I already have a ton of followers. Do I really need this course?
A: Yes. This is not a course that was created only for beginners to learn how to start and build a successful profile on Instagram. This is a course that shows everyone--whether you have 100 followers or 100k followers--how to build and increase your engagement, while simultaneously growing your business. According to a brand survey that was recently conducted, "great" engagement is typically around 4%; so unless you're crushing your engagement numbers and are not looking for other ways to grow your business, then this course is definitely for you.

Q: How can I access the course?
A: Once you enroll and you've setup your login, you will have the website URL to continuously come back to login at your convenience. You can access it via computer, tablet, or mobile phone as long as you are connected to the internet. You can download the bonus materials and print them out so you have those on hand at all times.

Q: Do you offer any refunds or guarantees?
A: Yes I do! I only want students who are enthusiastic and excited to implement these new strategies with their Instagram profiles. If you go through the course, complete the workbooks, implement the strategies, and don't see any results, then you can email within 14 days of purchase to request a full refund.
Q: Can I be an affiliate as a student or a non-student?
A: Yes! We offer an affiliate program to both students and non-students who want to expand their business and make a little money on the side. You can get more information right here.
It's time to start getting paid for your passion, and you can use Instagram to get there.
THRIVE with the New IG Algorithm
Make Money with Your Current Following
Make it Impossible for Brands to Say "No" to You
Master YOUR Instagram Engagement